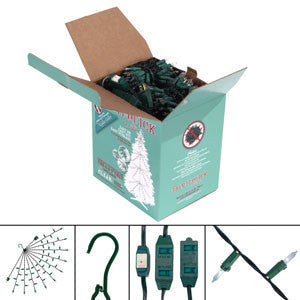 10-12' Tree Lighting Kit: Incandescent: 1950 Total Lights CLEAR: Item #K045C
SUBSTITUTION FOR 10-12' TREE LIGHTING KIT 
Due to back order of our 35" clear light sets, we have temporarily substituted the 7-35" light sets (100 ct) with 7-47" light sets (150 ct). The Kit will include 2300 Lights instead of 1950 for same price of $111.99. We apologize for the inconvenience. 
1-18" light set (50ct)
13-47" light sets (150ct)
2-60" light sets (150ct)
2-9 outlet (9') extension cord with on/off switch. 
Free storage bag
The Trim-It-Quick complete and easy lighting kit for live and artificial trees features the patented Trim-It-Quick (TIQ) 6-strand designed light sets.  Each TIQ light set is constructed with a hook for holding strands in place for easy positioning.   Different from the traditional light sets, the 6-strand design readily adapts to the natural contours of tree branches.
Kit Includes:
1-18" light set (50ct)
7-35" light sets (100ct)
6-47" light sets (150ct)
2-60" light sets (150ct)
2-9 outlet (9') extension cord with on/off switch. 
Free storage bag
FEATURES
Instant trunk to tip density
Vibrant dense coverage without winding back and forth
Each branch has it's own light strand
Eliminates unsightly crossover from branch to branch
Enhancement lighting or replacement lighting for pre-lit trees.
Indoor/Outdoor uses
BENEFITS
The first complete lighting kit for trees designed to simplify the decorating experience. 
Trim-It-Quick takes the guesswork out of shopping for Christmas tree lights.
Trim-It-Quick's patented 6-strand design comes in 4 lengths to ensure a custom fit for various sized trees.
Looks professionally decorated with less effort
Quick removal and stores away neatly year after year
Tangle resistant due to shorter strands
Easy Lighting Instructions:
| | |
| --- | --- |
| | |
| 1. Feed the multi-port extension cord up through the center of the tree. | 2. Find the 18" hook-strand and plug it into the end of the extension cord, near the top of the tree. |
| | |
| 3. Reach into the tree near the trunk, and hang the hook-strand on a branch. | 4. Fan the individual string lights around the tree and arrange each string on its own branch , trunk to tip. |
| | |
| 5. Working toward the bottom of the tree, repeat with the remaining hook-strands, using the 18"" hook-strand at the top and the 35", 47", and 60" hook-strands as you work your way down. | 6. For tangle-free storage hand the Trim-It-Quick hook-strands by the hooks or simply lay them in storage containers. |